Upper Back Pain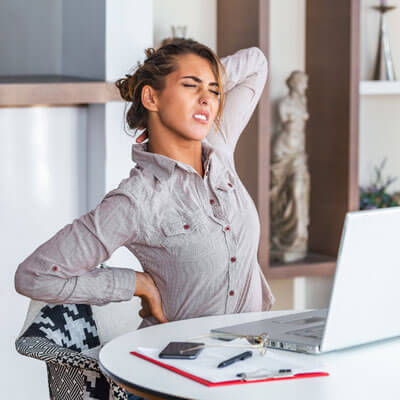 Not all back pain is the same. While low back discomfort is more common, upper back pain can be just as challenging to deal with. We change our approach to care based on your specific needs to make sure we're targeting the cause of your discomfort.
Starting With a Precise Diagnosis
Upper back discomfort can result from a previous injury or poor posture. The most common cause of pain is working on a computer all day. In most cases, we find that the joints that connect the ribs to the spine are not moving properly.
A thorough exam is crucial to determine what underlying issue is causing your discomfort. Many patients experience referred pain that may extend into the arm, chest, shoulder, or neck. Symptoms alone aren't always reliable in making an accurate diagnosis.
Your discomfort may be coming from your back, even if you feel it in another area.
Customizing Care to Your Needs
Once we've found the source of pain, Dr. Gleeson will provide adjustments to whichever rib or spine joints are not functioning properly. He frequently does muscle release techniques in the affected area as well.
It's hard to say how long it will take to achieve peak wellness, as every patient is different. We might start by recommending four to six visits initially and then reevaluate you after that.
Addressing Your Discomfort From Every Angle
Each time you come in, we'll monitor your improvement by palpating the target joint. As you improve, you'll experience less tenderness in that area.
As a comprehensive wellness clinic, Outback Chiropractic Clinic has several approaches to care available to meet your specific needs. If you aren't responding to care as quickly as we'd like, we may recommend using acupuncture to speed up your recovery.
Put Pain in Its Place Today
We're here to help you heal without having to resort to medications or surgery. Book your first visit now.

Low Back Pain Thunder Bay ON | (807) 768-2225