The Techniques Used at Outback Chiropractic Clinic
We use a number of highly effective approaches to help improve spinal biomechanics and reduce muscle dysfunction that leads to pain. The approach we use is based on our clinical judgment and years of clinical experience.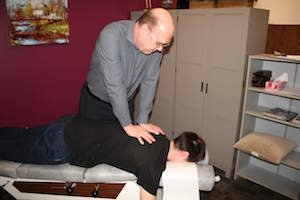 Diversified
This is the most common chiropractic technique in existence, so we use this frequently in our practice with excellent results. Read more>>
Myofascial Release Technique
We use this type of muscle release technique to help manually relax the muscle and focus on removing the scar tissue so that muscle can function optimally. Read more>>
Acupuncture
Acupuncture is a health care system that uses special needles to help the body heal, reduce or eliminate pain and improve overall functioning. Read more>>
If you've been to a chiropractor before and prefer to be adjusted in a particular way, let us know. We want you to relax, enjoy and fully benefit from your chiropractic care.
We're always here to help in any way we can. Give us a call today at (807) 768-2225!
---
Outback Chiropractic Clinic | (807) 768-2225